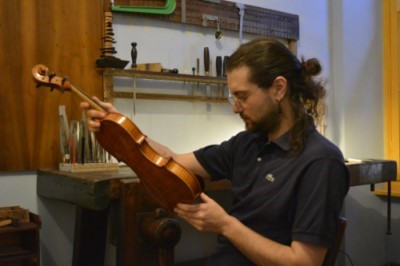 Lorenzo was born in Varese on 16th January 1989. Since he was a child, he devoted himself to music and craftmanship, studying clarinet and working in the restoration workshop of his father.
In 2009 Lorenzo graduated from the art school Angelo Frattini in Varese, and then studied in Milan at the violin making school "Civica Scuola di Liuteria di Milano".
He graduated in 2011, thus becoming luthier.
He acquired the title of Master in 2013, graduating with honours.
In the same year he started a 2-year-internship at the workshop of Master Luca Primon, former teacher at the "Civica Scuola di Liuteria di Milano". Under the preciuos guidance of a great Master, Lorenzo honed his skills and made his wealth of experience, mastering the craft of violins, cellos, quartets and decorated instruments.
In 2014 Lorenzo was awarded with the gold medal for cellos, at the 8th A.n.l.a.i. national violinmaking competition and the Cremona award for the best instrument.
In 2015 he did a one-year master in assembling and fine tunig of bowed string instruments, graduating again with honours.
After a year of further training and research, working with highly esteemed luthiers like Gregg Alf, Elena Bardella and Luca Primon, in 2016 Lorenzo decided to open the doors of his own workshop in the ancient village of Orino, devoting himself to the craft and restoration of violins, violas and cellos.